MYLAR and Special Effect Embroidery
MYLAR & Special Effect Embroidery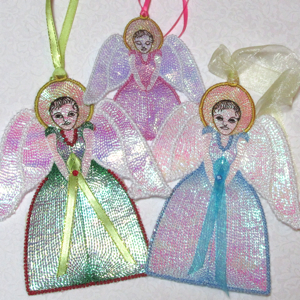 In this category you will find designs that were specially digitized to be used with a base of Mylar or Angelina film, and in some cases Organza fabric. Each of these applications produces a design with a shimmering effect that adds impact sparkle and shine!
Each design has been digitized in a special manor that allows the base application to shine through the design creating a shimmering glow unique to the technique. The thread base is sheer and my NLE designs are often contoured to add even further dimension to the design.
The design styles here include both wearable, quiltable and craft designs. Some are of a direct appliquè nature and some are free standing in the hoop designs such as ornaments, cards or bookmarks etc. Each are unique. Mylar and Angelina resources are found in the links below. Mylar and Angelina as well as Organza can be both machine washed and dried.
Purchase Mylar and Angelina Film at :
For more information about Mylar, (what is mylar) click