Your Order History How To
How to access your
ORDER HISTORY

Please note that for best practices, please save and back up your design orders to assure their safe keeping. Needle Little Embroidery does not assume responsibility for lost files, and should not be regarded as an additional storage resource. Your Order History is provided as a courtesy only and not to be confused as a guaranteed back up or recovery source.

To access your order history enter the email address used during purchase in the Username box, then enter your password.
YOUR auto generated password is found at the bottom of every order.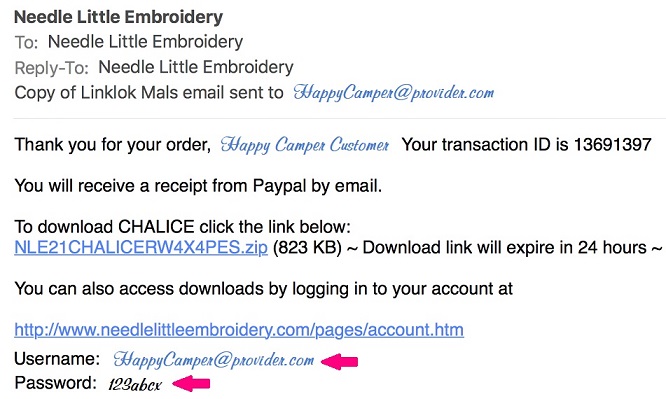 If you prefer you may change your password to one of your own choice by following the directions found on this page. If you have further questions please contact me via the contact page.
Thank you,
Michelle
As an additional note, should you have trouble logging in please try clearing your browser cookies and then try again! Often this is all you need to do. If you are not sure how to do this, Google for the instructions for the browser you use.
Also as a best practice, after logging in and retrieving past orders be sure to use the log out feature as shown below on your account page before you close out.
This option is at the top of that page as shown below: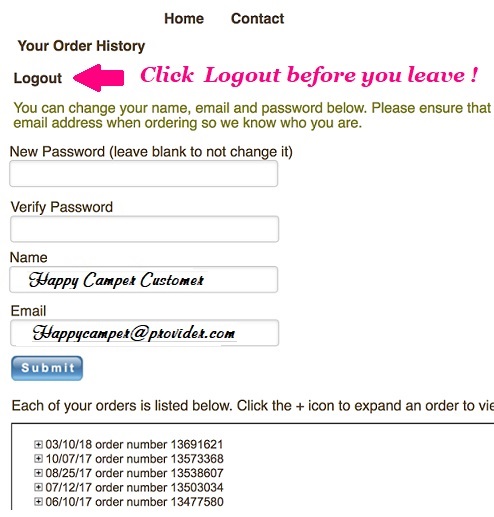 Enter the email address used when you purchased your products, along with your order number, to view your order details.